Down where the fag-end of London slopes into the sea, there lies the forgotten land of Southend, home of the whelk stall and source of some of the best British music to come out of the sixties. Not to mention the seventies. MAX BELL journeys to the shrine to talk to MICKEY JUPP, musical zen master and local R&B hero number one, to discover…
The Lost Legends of Southend Rock
MICKEY JUPP with, Teacher's-stained vocal chords, archaic Gretsch Electromatic, dubious piano; Mo's battered Stratocaster, low shoo-wopping with John's high-wee-Powees, plus his reliable Gibson Electric laying it down alongside Bills Chad Walley drum kit; formerly of The Orioles and The Epics (of Southend), in the spirit of Winnie The Pooh, The Wild West, Phyllis Campbell; and of course the heroes of the Golden Sixties are - Legend -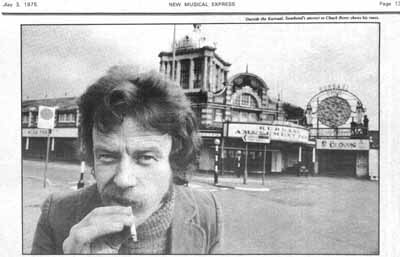 TURN LEFT out of the station and you'll be in the High Street, can't miss it really. The Music Centre is in Queens Road.
At just gone eleven you board a Fenchurch Street train bound for Southend. supposed home of the sudden R&B revival and a few other things. Five miles out of the East End there are cows in fields chewing beneath the pylons. Sleepy stations en route that have boarded up waiting rooms and notices proudly proclaiming "Closed through Vandalism".
As the landscape flattens you come to Benfleet (alight here for Canvey Island, 0il-City) where smart yachts sprawl like whales on the oozing mud banks of the Thames Estuary, stuck in the spume topped. curdled waste of a low tide.
Southend itself boasts a fairly typical combination of Victorian seaside architecture and the messy incongruity of a twentieth century leisure cult gone made. It's genteel and sordid all at the same time. Along the front lies The Golden Mile, one time summer meeting place for countless holiday makers and the mods and rockers who couldn't make Clacton. Not much to see now except "the largest pier in the world", the empty fish 'n' chip shops, the odd whelk stall and of course ... the Kursaal.
The Kursaal, once upon a time eight acres of fun and noise, rival to Battersea. Now it's a closed-down museum of fruit machines and side shows, gathering dust until it's redeveloped into "the biggest bingo hall in the world" or more likely, meets with the hammer… That Day Will Come.
Mickey Jupp lives in Southend and it's his lunch hour. A more honest, unassuming down to earth character you couldn't hope to meet but Jupp also happens to be Local R&N Hero Number One. The Feelgoods and the Kursaal Flyers may have already made it but they'd be the first to admit that Mickey is more than a major influence. He's a star in his own right, a white Chuck Berry who for some reason known only to God and the fates, has been passed over while lesser men achieve fame and fortune.
But he ain't forgotten, Wilko Johnson (Feelgoods); He's the best white singer I've ever heard, also an excellent songwriter" (Zigzag April).
Vic Collins (Kursaals). "You here to interview Michael? About bloody time an' all."
With Legend (Jupp - piano, rhythm guitar, vocals; Mo Witham - lead and vocal; John Bobin - bass, vocal; Bob Clouter or Bill Fifield later Billy Legend on drums) he made three albums not obtainable for love or money: He wrote a. whole catalogue of ace songs. played a mean guitar and proved that, white bands could not only write original classics, they could play them properly too.
See, the Feelgoods are superb live. no question. but they tend to concentrate on the R and forget about the B. Legend didn't. They slowed it down occasionally, and whereas the Feelgoods come of the turntable like a kick in the balls. Legend filled out more without sacrificing the excitement.
Admittedly they had two guitarists but that. sort of feel comes only with experience.
No-one is better qualified to explain the evolution of Southend rock than Mick, as he figures in most of its stages: "My early history? Well I started oft on piano when I was nine. To get to lessons I had to walk about a mile and I used to pass me mates playing football. I'd lend 'em my music bag for a goalpost and that was the end of piano lesson.
Didn't look at music again 'til I was sixteen when mum had bought father a cheap steel guitar and I picked-up a few chords. I wasn't really interested in listening to music until one day I heard "Poison
"One and six to get in, Cokes seven pence. Stupid:"
Ivy" by The Coasters at a friend's house. Went out and bought everything by them I could lay me hands on.
After that I played guitar in a group called the Black Diamonds. We did the tennis club up the road. That was just before my first marriage in 1962. One day at rehearsals I was trying out the riff to Barrett Strong's "Money"; not very well but it sounded OK. Word got around that I could play and Robin Trower (then in Southend's premier R&B band the Paramounts) said he knew of a group who needed a pianist. So I joined.
We rehearsed in a place called The Shades, marvellous atmosphere. where The Paramounts played on Sundays. One and six to get in, cokes seven pence. Stupid Gary Brooker who was also in the Paramounts, christened us - The Orioles and We moved in Wednesdays doing stuff like "Right String Baby. But The Wrong Yo-Yo and `Brand New Cadillac'. One day I said how about Money? and they said Right you're the singer from now on. That's how I started.
We weren't. good, in fact we were bloody useless, but we lacked confidence. We had a guitarist who was amazing at rehearsals but come a gig he couldn't play through nerves. He had a nervous breakdown and left. After that we got a guitarist (Mo) who I knew at Art College and he was good all the time. When The Paramounts moved out we took over and built up an even larger following.
The next step was doing an .audition for The Cricketers, the local rock house, and we got it the second time, four nights a week. Course it was all Mods 'n' Rockers then - scooters, clip-ons, parkas, anoraks and all the girls in them blue plastic macs. We played there two years, then I got married. The demise of The Orioles was my fault really 'cos I got slung inside for non-payment of maintenance".
That's only half the story: the evolution of Legend is yet to come as they weren't a playing entity until two years after the formation of Procol Harum by Brooker. Jupp meanwhile played in an informal set up known as The Jam with Trower, and Wilko went off to University.
This could go on for bloody ever. Before The Paramounts there was The , Rockerfellers and they were it. Individually not so good but together as tight as that. They split in 1962. End of part one.
Move on four years. I was working in a department store (I got the song "The Shop" from then) and one day the barmaid from the Cricketers came in and said `My son's helping out at a pub in Brentwood and they're looking for a pianist Sunday lunchtime'. I went along and lo and behold it's The Rockerfellers: Tony, Davy Barnes arid Joe. I'd left the shop under a cloud (won't go into de tails) and went off to Bath for a year to get away from it all but I used to come back every other Sunday and have a blow.
That's how I formed the first Legend which was all acoustic. We only did one gig on a boat at Staines but we found time for an album which we did in nine hours flat! Sort of acoustic country rock 'n' roll. except for "20 Carat Rocker" which The Wild Angels wanted to do - y'know the story about the rocker growin' old and having to settle down. We got a hell of a lot of airplay. There was a single "National Gas" which Bob Harris used to play when he was on the circuit.
Anyway nothing more came of it, fine, over. I went back to Bath. not doing anything. and a letter arrives from Robin Trower. who was in Procol Harum with Gary. It said to call him, so I did. Harum's bass player David Knights was leaving them to go into management and, same old bit, wanted a band to go on the road. I said OK but I've got to have Mo Witham on guitar and little Bob Clouter on drums. 'Cos I'd always been with them in The Orioles and I was getting a little older. and a little fussier.
Anyone round here - Wilko…anyone - will tell you ' Mo's shit hot. Wilko used to watch him like this (he stares wide eyed and open mouthed). That was Legend two.
We managed a contract with Vertigo and started playing regular. A friend lent me a grand, piano and it was like a new toy, great. There are songs on the second album that I wrote on that piano:'
(The legendary "Flaming Red Boot" album., untitled. Which contains the originals of "Cheque Book". covered by The Feelgoods. and "Cross Coun'try". featured on The Kursaal's forthcoming album - plus a host of other stone classics.)
In two months I wrote most of that and the "Moonshine" album. I was writing just for the 'hell of it; like people make model aeroplanes, something which David Knights could never understand, But I digress.
Again lots of airplay and no sales. A single "Life"'. flopped here but was a hit on the continent for some reason. On the strength of that we went there, supposedly for a month and £ 1,000. In fact we got strapped up and we worked out it was a business deal involving some local shysters to get a hit band cheap. So we did a runner, a moonlight, when no one was looking. We had to be careful 'cos there were some heavy people around… y'know with the dark glasses and the macs and the little hats with feathers in. We came back, did "Moonshine" but that was the beginning of the end of Legend.
Bobby left and we had one other drummer, Barney James (now with Rick Wakeman), who had a big car and no money. He was always going on about the lack of work and what with the Italian Job we got dispirited. This particular night at "The Pheasantry" we were bad and if you were bad there you were terrible. Mo and I looked at each other; didn't say anything, we knew it was all over. "Moonshine" didn't get any air-play and no publicity; except for a quarter page ad which we paid for, but it was the only one I'm pleased with. The Red Boot album's alright.
Despite dissatisfaction with the way they were managed, at Vertigo, Jupp resolutely refuses to be bitter. He merely. says: "In the end we got pissed off" and these gentlemen here (indicating the passing figure of Chris Stevens) offered me a job at the Music Centre. Been here ever since."
Though Mickey discounted the Boot album presumably the memories surrounding it aren't the happiest imaginable rest assured it is a bona fide R&B milestone. Surpassingly it's produced by Tony Visconti and Eddie Offord, and indirectly Visconti was instrumental in Legend losing their second drummer.
Visconti had just done 'Ride A White Swan" with T. Rex and Marc Bolan wanted a simple drummer. I don't mean `ah-hunnhh' . . I mean simple style and that's the connection with Bill Fifield leaving. There was a time when we took a piece of chalk round and wrote "T. Rex Second Eleven Were Here" on dressing room walls."
AS TIME went on and possible success seemed to slip further away Jupp became more stoical, resigned to his situation. He hasn't been short of offers since Legend's demise so why doesn't he go back on the road?
No, that's just it. Mick Green rang up the other day with a band. All I want to do is once a week on this pub scene, I fancy that. I jammed with The
"Mickey Jupp is the best white singer I've ever heard." Wilko Johnson.
Feelgoods once at The Nelson, Holloway Road; smashing Thoroughly enjoyed it. But I suppose you never know The Kursaal Flyers began for a laugh down The Blue Boat and just took off, on the strength of Feelgood mind, but there you go. Just local lads.
If Mickey does go through with the pub dates being lined up for him the wheel will have turned an ironic full circle. Wilko Johnson, Will Birch et al formerly of The Heap, The Fix, The Flowerpots and other smallish bands used to idolise, still do, .The Orioles. Now Mickey is reliant on those to whom .he was a mentor. So what does he think of The Feelgoods?
They haven't changed a bit, tighter maybe. Wilko's always been like that, it comes with the music, and Lee's got that way with the mike, all that jazz. I know they won't mind if I say this but they're doing my music, I mean old R&B American pop, but not how I like to hear it. The originals are how it should be. See don't talk to me about the Beatles "Money" I don't want to know. Barrett Strong does it right.
Live Feelgood do it great, that's alright. For example; "Bony Maronie" they've taken apart and put together again and not lost the excitement. Only thing missing is the whistling. Larry Williams does some whistling at the end.
Mickey is nonetheless' a bit scathing when broached with the opinion that Southend could just be where it's all happening now: "What have we produced? Four or five people ?.:Trower, Harum, Feelgood, The Flyers, and Viv Stanshall… he's always popping up. That said with absolute sincerity and ' no mock humility in omitting his own name.
There's nowhere to play here anymore, place is dead as a doomail. It's all discos now. The group boom happened because of the clubs; that was the original pub scene. There is one band though, all, locals called The Rock And Roll Cadets. They are great. I'm gonna get them when I play.. Youll probably see 'em in a pub.
And that's just it. Southend may not be experiencing an R&B boom comparable with the Paramounts/Orioles peak but the town does seem conducive to a much healthier give-and-take atmosphere than is possible in London where . the vaunted pub/club circuit was approaching sterility until Dr Feelgood grabbed it round the neck.
In the shop or the pub on the comer you're likely to meet up with any number of people from local bands, famous or not. It is a real community in that sense they don't need to look for roots because they're already there. This and places like it is where the true spirit of rock music lives on, and not in the. shallow, impotent chic of the clubs when the stars only come out at night. I venture to Mickey that British R&B is only re-surfacing, it's no fashionable revival, and that it differs somewhat from the South London Richmond feel of the early sixties.
Maybe it's the sea, I know a lot of the numbers done here are done 'cos we did them. I used to have a book full of old lyrics which I flogged for a fiver. The Orioles were doing songs people hadn't heard of. Don Gibson's "Sweet Dreams" or Gene Chandler's "The Duke Earl". See the other bands were all smaller or straight pop like Ronnie and the Whirlwinds… doing old Beatles. They had different huge followings and, I suppose if you hadn't heard of Arthur Alexander, their Anna was quite R&B. Same with Frankie Ford, they'd never heard of him.
The demise of the rock 'n' roll phase and the overlap of smooth, ,face music didn't result in too much local aggravation.
There was never any mods and rockers bother unless they came down from town. "Orrhless go dahn Sarfend,'n sampul sahm a the rorck" There was a bit of needle at The Cricketers, but with 500 people you're bound to get it occasionally. Sometimes you had to tread a bit careful, that was all.
One thing Mick doesn't do now is listen to music, he hasn't even heard "Down By The Jetty" yet. No honest. I think l0cc are great saw them the other week, but Harley and Bowie you can….they're a con.
Robin Trower? I don't like it. I don't like Hendrix, never did and I don't listen to the radio. I watch 'Top Of The Pops' 'cos my two year old daughter likes it. Wizzard are good and Dave Edmunds. Dave asked me to join him once but we'd bought all this new equipment so conscience stopped it. I'm not saying music now is rubbish, I just don't want to listen to it.
Anyone who gets hold of The Legend albums will notice a marked autobiographical
"Robin Trower said he knew a group who needed a pianist, so I joined. GaryBrooker christened us the Orioles."
element with a certain depression creeping in at the sides:
Yeah. "Lorraine" was for my brother's brother-in-law who fancied a girl with that name. I wrote it the way I thought he'd feel. "Cross Country" was about Bath and coming back to London. "Five Years" a relationship finishing. "Somebody In Love" is the Fats Domino shit. .Most of my good songs were written when I was down, I think most peoples' are. A lot of it was reminiscing.. I was twenty seven and beginning to realise it was the last chance. I'd never make it now. I've still got an old manuscript of first lines and titles that I'd like to work on, some of them are sad. I suppose they're all mediocre really…
Mickey grins wryly, no trace of self-pity. I find it depressing and press on for the assurance that he will play the Kensington when the time comes. He brightens up.
Not half. Mo says hell do it. I thought "blimey" the NME and then Will Birch getting these days. If it happens…. great. If it looks like happening I'll push it. Twelve years ago I thought I'd be a star and now we get all the kids coming in the shop thinking the same. You can't tell them you'll be like me in twelve years time. I'm 31 now but when things like this happen . . . well . . . a bit of interest . . . you never know do you?
When the gigs do come off they promise to be quite an occasion: I'll go and sing my ruddy heart out. I miss it. I enjoy a good blow. The little band I'm in at the moment, we do rock 'n ' roll at the end. It's never rehearsed. The drummer's 38. he's always been used to playing a certain way b. tss . . ts . . tss : . tsssh and the bass going .: boom, boom, boom. It swings like fuck. Tremendous, 'cos it's simple. I look forward to my turn and I only really miss singing the blues stuff like Elmore James "Coming Home To Dust My Broom" At The Crossroads'.

I like playing good and loud. I'll go up there and have a good time. That's what it's all about .: . having a good blow 7
"I been here for so long, sick of this old town
I ain't getting younger and
it's time I got around.
I want to go some places I
ain't seen before
When I turn that car round
momma. you won't see me no
more
I got my cheque book baby.
got my bags all packed
You comin' with me, get in
the motor, throw your suit
case in the back:"
Gospel Music / Mickey Jupp.